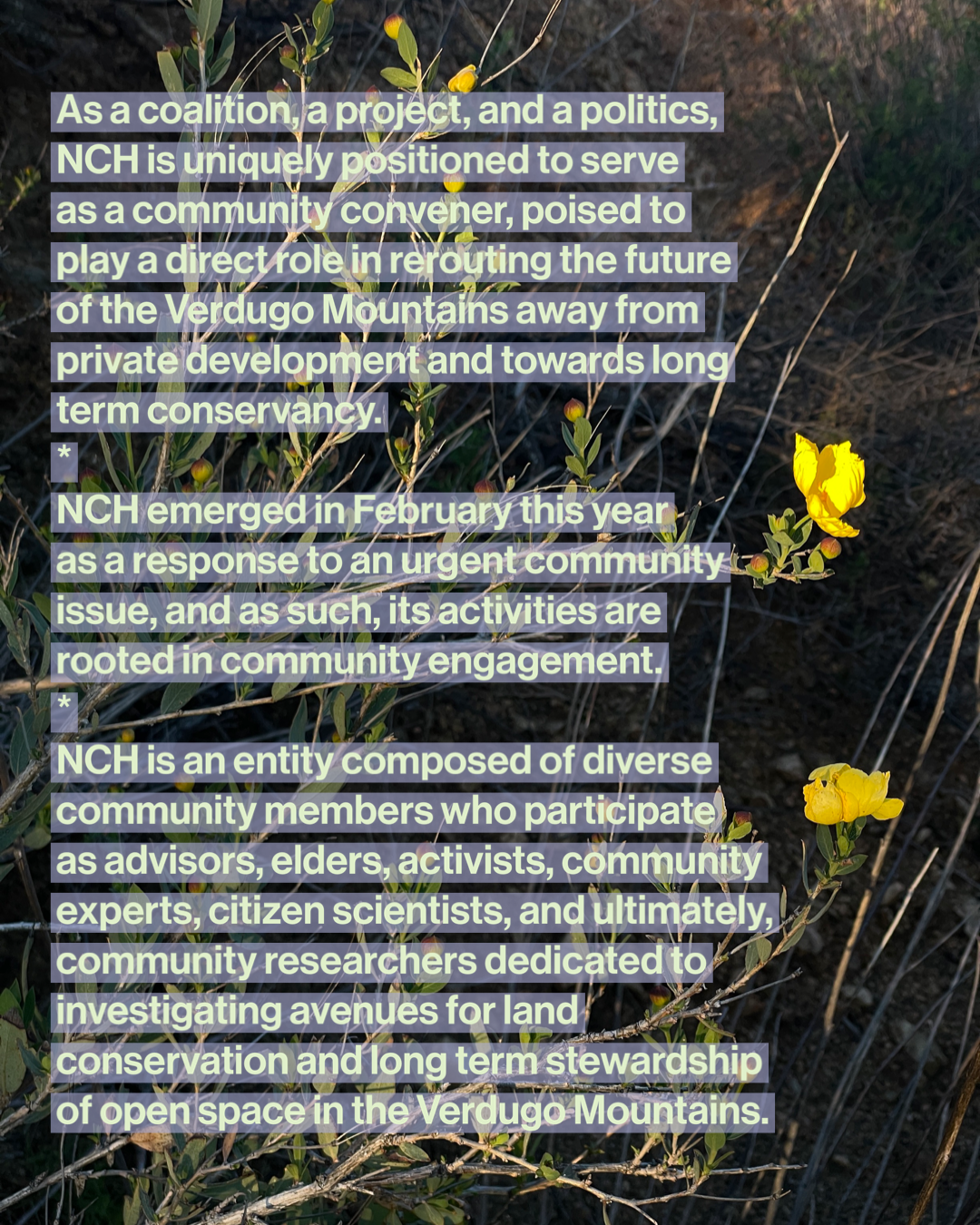 No Canyon Hills is a project of
Concerning Landscape
, a non-profit organization in California currently moving towards 501(c)(3) status.
No Canyon Hills (NCH) is a community coalition forged in solidarity with the plant and animal communities of the Verdugo Mountains in Los Angeles, ancestral land and unceded territory of the Fernandeño Tataviam Band of Mission Indians, and the Gabrieleno (Tongva) Band of Mission Indians. Catalyzed by a proposal to build a luxury gated development on 300+ acres of intact native habitat in the Verdugos, NCH deploys cooperative actions and interventionist strategies across social, political, educational, and legislative registers. NCH works as a multiform entity to conceive and realize urgent anti-colonial land conservation solutions.
THE BOARD

Emma Kemp, Executive Director
Emma is a writer and researcher working across disciplines. Emma is an Assistant Professor at Otis College of Art & Design with an extensive history in publishing and community organizing. She is represented by Frances Goldin Literary Agency.

Devon Christian, Director of Field Research
Devon is a self taught botanist whose area of focus encompasses the Verdugo Mountains and San Rafael Hills.


Mateo Altman, Director of Operations
Mateo has years of experience in creative project management, including as Community Outreach Coordinator for CalArts Community Arts Partnership.




Dan Cooper, Ph.DDan is the Deputy Executive Officer and a Senior Conservation Biologist with the Resource Conservation District of the Santa Monica Mountains. Formerly the Bird Conservation Director for Audubon California, Dan is the author of "Important Bird Areas of California" (2004). Dan has extensive experience in designing and conducting habitat assessments and species inventories, including co-directing (with USGS) the Griffith Park Connectivity Study which obtained the first photograph of the mountain lion now known as P-22 in 2012. Dan was named a Research Associate in the Department of Ornithology at the Los Angeles County Natural History Museum in 2020.
Korinna DomingoKorinna is a wildlife biologist and Founder-Director of the Cougar Conservancy. Prior to founding the Conservancy, she worked on a variety of wildlife projects in the field. In 2016, Korinna was part of the team that pushed for Assembly Bill 8, introduced by Assembly Member Richard Bloom, which would authorize, rather than require, the issuance of depredation permits. Korinna was honored by California Senator Anthony Portantino in 2019 for her wildlife advocacy work. She received her B.Sc. in Wildlife Management & Conservation from Humboldt State University.

Devlin Gandy
Devlin is an archaeologist, ethnogeographer, documentarian, citizen of the Cherokee Nation of Oklahoma, and currently completing his Ph.D in archaeological paleoenvironmental genomics at the University of Cambridge. His academic research focuses on the long-term presence, relational networks, and agency of Native people on North American landscapes and ecologies.

Johanna TurnerJohanna is a wildlife photographer with years of expertise tracking and documenting wildlife in the L.A. basin. For her work in urban ecology, she was selected as a "Conservation Hero" by the Disney Conservation Fund in 2019. A member of the advisory committee member for Cougar Conservancy, Johanna works closely with environmental advocacy groups. Johanna recently served as a principal photographer for the Apple TV series Earth at Night in Color.

Sophie Pennes
Sophie is the founder of Urban Farms LA, an edible and native gardening service that designs, builds & maintains landscapes for businesses and homes in LA County. Born and raised in Los Angeles, Sophie graduated from Chapman University with a degree in environmental science and communication, and then completed a post-grad certificate program at UCLA studying horticulture. Her passions include environmental education, re-wilding cities, combating habitat loss/ species extinction and creating beautiful spaces for humans to connect with nature.
COMMUNITY RESEARCHERS

Haley Hopkins
Adam Gelbart
Patrick Dyer
Margaret Gallagher
Kevin Ohle
Elizabeth Lockhart
Craig Burrows
Penelope Leggett
Rio Asch Phoenix
Geovanni De Leon
Krystle Hickman
Erin Berkowitz
Almond (Alo) Dodge
May Rose
Kevin Fistanic



OUR SUPPORTERS INCLUDE